On this episode of rokrbox TV, Josh welcomes Jeff Cohn back to the show. Jokingly introducing himself as the "skipper" of Elite Real Estate Systems, Jeff encourages viewers to check out his own platform, The Team Building Podcast, where they can watch this interview and other interviews with the real estate industry's top team leaders and brokers.
[00:50] "Josh and I talked beforehand," Jeff explains with a smile, "and I [thought], you know, my audience would love this interview as well—why don't we just do this together? So Josh is in charge today."
Jeff shares that they met years before Josh founded rokrbox. "We had a lot of things in common," Jeff jokes, telling viewers that after some digging, they realized they were related.
"We discovered we were seventh cousins," Jeff says. "It's just a small world, kind of crazy, so it's just kind of a fun little connection. We have the same great-great-great grandfather, and that's kinda neat."
[1:45] "We became clients of [Josh's] a long time ago," Jeff continues. "Of course we're huge believers in call centers, and using virtual caller assistance. Having it local has been a game-changer." As the owner of an overseas call center, Jeff acknowledges the need for it—but not if you want to have those high-quality conversations.
"Josh has done an amazing job," he declares. "We've loved working with rokrbox. They're the best option when it comes to screening calls, scrubbing calls, whatever you want to call it. And we're still using [rokrbox] in all of our offices."
It turns out that blood isn't the only thing these two entrepreneurs share. Like Josh, Jeff was also the first in his family to graduate college.
"Humble beginnings from the Midwest," Josh proclaims. "Our great-great-great grandfather would hopefully be proud of us now. You've rolled up your sleeves, got into real estate about a decade ago." He invites Jeff to share more from his "humble beginnings" in the industry.
[3:00] Jeff explains that he earned his business degree in 2006, adding that himself and his brother were the first generation to earn college degrees. "I didn't want to work for someone [after that]," Jeff confesses. "I had a lot of opportunities…I just knew I just wanted to control my own destiny. I didn't want to be limited, I didn't want someone to tell me what to do. So I decided to get my real estate license."
With both a mother and uncle in real estate growing up, Jeff was exposed to the industry from a young age. After jumping into the world of real estate in 2007, Jeff shares that he sold over 50 houses his first year, netting $96K by himself. After hiring an admin in 2008, Jeff's business exploded, allowing him to do 75-80 transactions each year—on a loan, with an admin, netting $300K-400K on an annual basis.
[3:50] "I was working 80 hours a week," he says with a laugh, "and not living my best life." This led him to the decision to launch his own real estate team in 2011. The end goal, Jeff explains, was to have the ability to take on a more passive real estate role by the time he hit his 40s and 50s: owning a real estate team, as opposed to actively selling real estate.
Between 2011 and 2014, Jeff "became obsessed with learning about systems and strategies—culture, legion, lead conversion—to be able to scale a real estate company, because I wanted to build the #1 real estate company in Nebraska."
After becoming the #1 real estate agent in Nebraska in 2011, Jeff quickly accomplished his goal of building the highest-ranked team in Nebraska…and quickly ascended to the #1 team in the world at Berkshire Hathaway between 2011 and 2017.
[4:30] "We ended up [doing] 700 units in sales," Jeff says. "Gross commission income was at $3.2 million, $130 million in sales…and the team was about 25 people." In 2019, he retired his team and became a team ridge instead, leaving Berkshire Hathaway to join a Keller Williams franchise that Jeff launched himself: kwELITE.
Since launching kwELITE at the start of 2020, Jeff's team has not only grown from 30 to 150 agents, but they've also successfully launched their own mortgage company with 8 full-time loan officers onboard: Aksarben Mortgage, a title slyly derived from the name "Nebraska" spelled backwards.
But Jeff's success certainly didn't end there: he also launched his own investment company in 2016, which has acquired over $20 million of real estate. Additionally, Jeff's Philippines-based call center employs over 100 full-time callers. His highly successful coaching company, Elite Real Estate Systems, not only services real estate teams and brokerages nationwide, but services ancillary companies as well, allowing them to extend coaching to the mortgage, investment, and insurance industries.
[6:15] "That's the short list," Jeff laughs. "Just a lot of cool stuff going on, and the biggest thing has always been firing myself in every position I'm ever in to find my implementer, and move on to the next thing."
The goal, Jeff concludes, is to make more money in less time, with less energy—while simultaneously creating value. "Value to me is helping achieve their why," he explains, adding that someone's perspective of their "why" can change…and should change. The goal that Jeff and his team strive to achieve is helping people define their why, and more importantly, identify the key performance indicator they need to implement in their lives to achieve the results they desire.
"We train them to be the best they can be around those key performance indicators, and hold them accountable for the work they're supposed to do," Jeff says. "Where the magic happens [is] once someone has achieved something on their dream board, we force them to remove that item, and add a new one."
Although it may sound silly, Jeff says, he's noticed that most people who create dream boards don't dream about what the next dream board is going to look like. "Most people don't even believe the [first] dream board they create is ever going to happen," he says. "I've gone through ten dream boards. I've had all the experiences ten times over, because I was willing to take something off the list, and put the next thing on the list."
As far as helping people achieve their why, Jeff states, "That's what inspires me most: helping people achieve at the highest level. If you're not the solution to help people become a better version of themselves, then they need to go find that solution somewhere else."
[8:45] Commending Jeff's "incredibly unique" perspective, Josh reflects on his own time at Jeff's workshops, particularly the way he runs his weekly accountability meetings. During that time, Jeff makes it a point to address which goals people did (or did not) achieve, always linking those results right back to their dream board.
[9:30] Nodding in agreement, Jeff tells Josh that his team tracks everything. "It's pretty eye-opening to see how little a sales person has to work to get a certain result," he says, and references "the cliché 80-20 rule": 80% of the results you achieve are produced from 20% of your input.
"How much time did you put into all of the clients you closed last year?" Jeff challenges viewers, guessing that for most people, that answer is roughly 10%. The reason? Most of our time is invested in what Jeff dubs "fake work"—all of that "in-between fluff" (hanging out by the coffee machine, for example) that exists in our workday.
"Creative avoidance," Josh acknowledges with a knowing smile, earning a nod of approval from Jeff, who goes on to say that his team "got really intentional" to help each person discover where their greatest time was spent: that crucial 20%.
[11:00] This led Jeff's team to realize there were 3 main lead groups. Firstly, we have our sphere of influence, which Jeff defines as "anyone in your cell phone [contacts]…anyone who likes and trusts you." The second group is comprised of our internet leads, or online leads available for purchase. Lastly, we have outbound prospecting: cold leads, like knocking on some doors to distribute flyers, or simply "smiling and dialing" through a list of strangers.
While agents' personal preferences vary on which group to focus on, Jeff admits there's always, always this pressure to work your sphere of influence. "There's no button you can push to double your sphere overnight," Jeff states. "But there is a button I can push to double my cold prospecting efforts, [and] my internet leads."
If you're looking to build a business, Jeff points out, you understand that business people focus on scalability. After carefully tracking each agent's activity, Jeff's team learned that all of the data points boiled down to one thing.
"These numbers are the same across the board," Jeff stresses, stating that after a 10 years using Boomtown, they've successfully closed 2.5% of their online registrations. "2,500 people have bought or sold real estate with us in the last 10 years, [all] internet leads," he tells Josh. "Those 2,500 closed deals have generated $17 million in commissions." Of course, it was Jeff who trained his agents to close those deals, providing them with necessary resources: the platform, the company name, the marketing, et cetera.
[13:00] But the real kicker,Jeff cautions, is that their success never stemmed from the ability to generate leads, or get someone to visit their website.
"Success comes from communication," he emphasizes. "This is where rokrbox comes into play. This is the huge [added] value that rokrbox creates. People want to do business with people. [People] they know, like, and trust…[for us], rokrbox has been an extension of who we are."
For Jeff, it was quickly apparent that the more contact you make with people—the more you strengthen your rapport, trust, and relationships—the more people will want to work with you. The problem? People don't make the calls. They don't send the texts. They don't work.
"So if you're having a problem selling, it's probably because you don't work hard enough on the things that matter most," Jeff concludes, "That's where your time should be spent. Your highest income-producing activity is prospecting, and getting people to sign on the [dotted] line."
For any doubters out there, it's beneficial to acknowledge Jeff's well-deserved credibility as someone who has not only made tens of millions of dollars selling real estate, but has coached thousands of real estate agents across the country, and currently hosts the #1 team-building podcast in the world.
"All we did was say, 'Hey, you didn't make your call attempts. What do you want to remove from your vision board this week?' and everyone understood," Jeff explains. "For all of [the younger people] out there who think the world owes you something, the world owes you nothing. And you're not going to get anything unless you do the things [required] to get them."
[17:30] Jeff points out that this "entitlement generation" has created its own set of challenges. "People say, 'Oh, I'm not successful,' and they make all the excuses for why they're not," Jeff says.
He goes on to clarify that the true underlying cause so many struggle to face is this: a lack of success is often the direct result of an unwillingness to work hard enough. He simplifies it as such: if you don't work hard enough, if you don't feel smart enough, then work harder, become smarter, and leverage your resources.
"Our intention isn't to be nasty," Jeff adds. "Our intention is to help people succeed at the highest level." Of course, that looks different from everyone, and is entirely dependent on someone's personal goals.
Jeff's team works hard to identify each client's unique needs: break down how many dials they need to make, for example, or how many deals they need to close, in order to generate the revenue they desire. It's critical to determine the best place for each agent to spend their time prospecting: where they gain the greatest return on investment, and more importantly, the greatest return on time.
And if you want to be profitable, Josh says, "you obviously have to do the math on the back end. What are you spending on lead sources, and technology, and ISAs, and commission splits? Whatever it is, you got to make it profitable."
Josh adds that something he has always appreciated about Jeff and his organization is their prioritization of the human element—something that the rokrbox family holds near and dear to their heart.
[21:00] "We're not just building a business of spreadsheets and numbers and data," Josh elaborates. "[We're] building a business that involves humans, and the way you're able to achieve your goals and dreams in life is to empower other people, and create a path to prosperity for them to get excited about."
(Interested in learning more about Jeff Cohn and his mission to help people like YOU discover and leverage their "why"? Visit https://www.eliterealestatesystems.com/podcast.)
[28:00] As the two cousins wrap up their time together, Josh reminds our listeners about Jeff's upcoming event—the highly anticipated 4th Annual Team Building Summit—to be held June 1-3 this summer in Omaha, Nebraska, at which Josh himself will be participating as a keynote speaker.
"He always does an amazing job. And it's not a rokrbox pitch," Jeff jokes. "He talks all about innovation, and millennials, and the future of business."
Agreeing, Josh expands on the topics he'll be covering in his TBS presentation, explaining, "I'm going to share some insights on how we built and developed our culture here at rokrbox…Our winning formula is that we've made the work fun, and meaningful, and fruitful, and rewarding for everybody involved." He adds that The Team Building Summit has always been rokrbox's favorite event of the year—and as far as price goes, "it's a breakeven thing. Jeff's not making any money." He emphasizes that the event is simply intended to bring people together.
As far as what this year's event has in store for its eager ticketholders, Jeff teases that there will, in fact, be another silent disco. (Yes, you read that correctly!) "It's going to be even better," Jeff promises. "We got 300 headsets coming in…The after-hour stuff is awesome."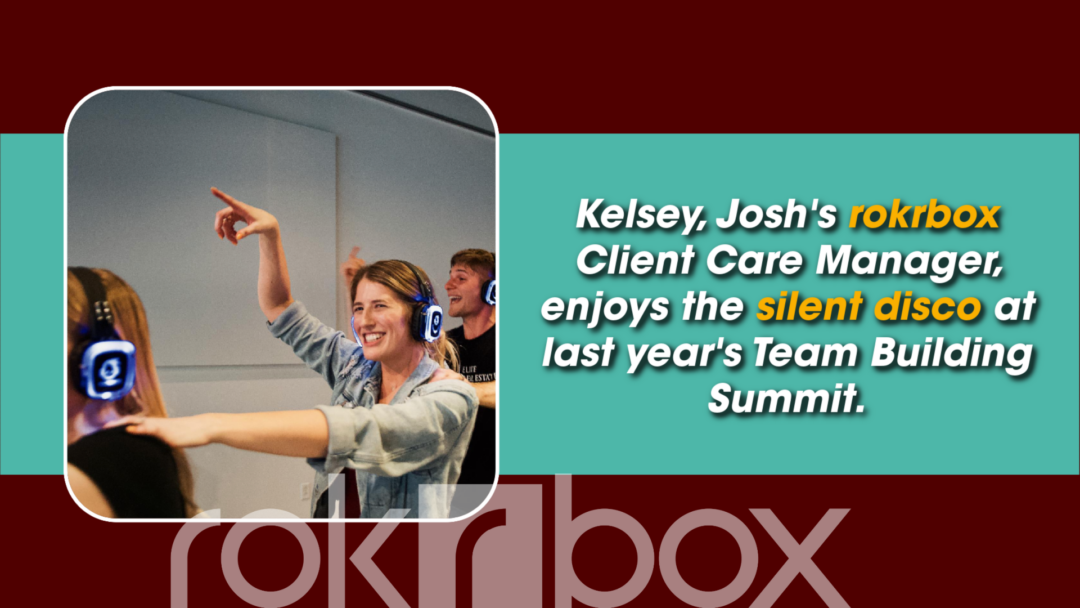 The best part, Jeff stresses, is that everyone gets to hang out after the event, during social hours that Jeff's team plans (and pays) for. Ticketholders will have unlimited access to successful big names in the industry, such as himself and Josh. "I'll be there," Jeff exclaims. "I'll be at everything."
According to Josh, the ticket price is a total steal considering all of the outstanding events that ticketholders will have the opportunity to attend throughout the event. "Totally worth it," Josh says. "There's an event the first night, an event the second night, free lunches every single day."
Jeff adds that ticketholders will even receive free Starbucks gift cards so they can grab coffee next door. Moreover, everything is walking distance, so attendees will enjoy the convenience of short commutes. The Summit itself will be held in a brand new event center that's only five minutes from downtown, where the College World Series in held. "Downtown's beautiful," Jeff emphasizes. "A lot of cool stuff to do there."
He goes on to say that attendees will be hearing valuable insights from big names like Spring Bengtzen, Brian Charlesworth, and Rock Thomas, a multi-millionaire broker from Montreal who formerly worked under Tony Robbins. "He has something very special planned for the audience [that] he's never done before," Jeff hints with a. smile. "A growing exercise that we're all going to do together."
"The whole event always feels like one big family," Josh says. "You always do an excellent job. We [at rokrbox] are always going to support it, always going to be there."
Thanking Jeff for coming on rokrbox TV, Josh bids Jeff farewell with a "See you later" instead of goodbye, adding, "Looking forward to seeing you next month."
Interested in joining Josh and the rokrbox team at this year's Team Building Summit? Take advantage of the rokrbox discount and enjoy $100 off tickets using this link: https://tinyurl.com/tbs-rokrbox-discount!